Home | Projects :

Leh

Bihar

Kashmir

Tsunami

Kargil

Orissa

Drought

Gujarat

Thane

Acid Attack

Kerala Floods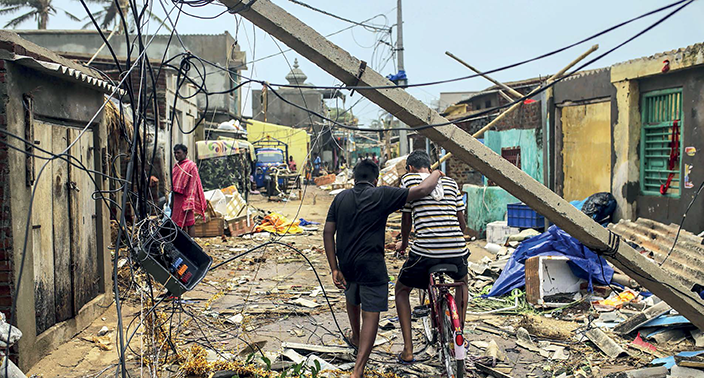 The destruction caused by Cyclone Fani in Puri district (Dhiraj Singh/Getty Images)


On May 3, 14 districts of Odisha were hit by Cyclone Fani. With winds of 175-185 kmph and heavy rainfall, this was the worst cyclone the state had witnessed in the past 20 years. In anticipation of its landfall, 1,160,529 people were evacuated and relocated to relief camps. As per reports, 64 people died and the lives of over 16 million people were severely affected by the cyclone. There was also a breakdown of road and electricity infrastructure. The state capital, Bhubaneswar, its airport, the temple town of Puri and Cuttack experienced power breakdowns. Over 500,000 houses were damaged, there was significant loss to the livelihoods of fishing and agricultural communities and thousands of trees were uprooted. As many as 5,244 primary schools, 547 secondary schools, 107 residential schools and 180 higher education institutions suffered damage to property.

The Care Today Fund proposes to rebuild the lives of the affected communities by providing initial relief, rebuilding community infrastructure, houses and livelihoods of the poor.

The Care Today Fund was established by the India Today Group in 1999 to provide a platform to those who want to contribute to causes they are concerned about. Since then, the Care Today Fund has supported many communities affected by disasters. Today, we are once again stepping in to galvanise support from all concerned citizens to reach out to the cyclone-affected communities in a meaningful way. We sincerely appeal for your donations.


As of June 19, 2019, we have received Rs 12,91,001 in donations. The Care Today Fund thanks all who contributed generously and acknowledges the following donors who contributed Rs 10,000 or more in the past week:
TV TODAY NETWORK LTD
Rs 10,00,000
PURPLE SUNSHINE
Rs 1,00,000
DR. SUDHIR BAHADUR
Rs 40,000
ALOK AGGARWAL
Rs 25,000
MENAKA PARTHASARATHY
Rs 25,000
K. S. GANGADHARAN BHAVANI GANGADHARAN
Rs 20,001
SAMBANDH BHUSHAN MITTAL
Rs 11,000
V.K. SAHNEY
Rs 10,000
DR. GEETA MUKHUTI / DR. ALOK KUMAR MUKHUTI
Rs 10,000
DR. NAROTTAM PURI
Rs 10,000
SANJAI SRIVASTAVA / SANGEETA SRIVASTAVA
Rs 10,000
OM PRAKASH MODI
Rs 10,000
ASPI R. BILLIMORIA
Rs 10,000
All donations of Rs 10,000 or more will be acknowledged on the pages of the magazine. Donations made to the Care Today Fund will be eligible for tax exemption under Section 80G of the Indian Income Tax Act.
Indian Donors
Donate by cheque or demand draft in favour of
'CARE TODAY A/C FANI RELIEF' Payable at New Delhi and send it to:
CARE TODAY FUND, INDIA TODAY GROUP MEDIAPLEX,
FC-8, SECTOR 16-A, FILM CITY, NOIDA 201301
UTTAR PRADESH (We do not accept cash)


---
Donors based Overseas
Please write to caretoday@intoday.com for details
MAKE A DIFFERENCE


CARE TODAY FUND


INDIA TODAY MEDIAPLEX, FC-8, SECTOR-16A, FILM CITY, NOIDA-201301 (UP)
For further details, please write to balaji.singh@intoday.com