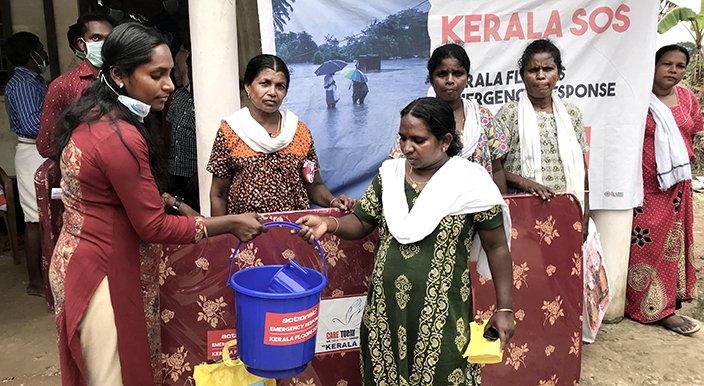 Relief efforts by Care Today Fund partner ActionAid


Responding to the severe Kerala floods, the Care Today Fund initiated relief efforts in the worst-affected districts in partnership with ActionAid Association. So far, relief material, consisting of sleeping mattresses, clothes, hygiene kits, cleaning kits and dry ration, has been provided to 470 families in the Idukki and Alappuzha districts.

However, the daunting task of rebuilding damaged houses, social infrastructure and livelihood needs to begin soon, and this requires your generous support. The Care Today Fund team has already visited the flood-affected areas to understand the scope of the work and appeals to all citizens to support the efforts to rebuild the lives of the affected communities. You can donate by cheque or demand draft as per the details provided in this appeal. Those who would like to donate through bank transfer can e-mail caretoday@intoday.com for details, along with their name and address. You may also enquire on +91- 8588892502 or +91-7011985493.

The names of donors giving Rs 10,000 or more will be acknowledged in the pages of India Today and on the group's television channels.

All donations are eligible for income tax exemption as per the provisions of 80G of the Indian Income Tax Act.


As of September 14, 2018, we have received Rs 33,20,730 as donation. The Care Today Fund acknowledges the following donations of Rs 10,000 or more:
Alok Aggarwal
51,000
Narendra K. Gupta
51,000
Yogendra Gupta
51,000
Kamlesh Wadhwa
51,000
Jagmohan Kapur
50,000
Surendra V. Dempo
50,000
Basant Road Residents Welfare Association
50,000
Ram Kumar
21,000
Satsang Mandal, R. K. Puram
21,000
Kartikeya Bhatt and Kritika Bhatt
20,000
Rekha Sachdeva
20,000
Col. Sukumar Sudhakar
20,000
Anand Agarwal
18,000
Praharsh
15,850
Priya Raghavan
15,000
Karmachari Jama Avam Bachat Co-operative Society
15,000
Yash Kumar
11,000
K. Amrik Singh
11,000
Dr. Kanta Kathpalia
11,000
R. R. Finance
11,000
Reena Chaudhary
11,000
Sudhir Rajeshwar Reddy
11,000
Jatinder Dhir
11,000
The Niharika Co-operative Thrift & Credit Society Ltd.
11,000
Shrimati Padminidevi Narayandas Bamblani Charitable Trust
11,000
Kalamandir
11,000
Baldev Dass Moudgil
11,000
Late Vidya Devi & Late Girraj Khandelwal
11,000
Ravindra Narayan
11,000
Samagra
11,000
Satish Chander Uberoy / Savita Oberoi
11,000
Rani Narayan
10,111
Nityajit Biswas
10,001
Tej Prakash Gupta
10,001
Radha Mehta
10,001
Gurinder Singh
10,000
Gurmeet Kaur
10,000
Prem Sagar Dawar
10,000
Amba Prasad
10,000
Kamal Kant Bagai
10,000
Poonam Chand Hada
10,000
Om Prakash Modi
10,000
Dr. Sudarshan Kumar Khanna
10,000
Dr. Geeta Mukhuti
10,000
Tranquil
10,000
Antonette fernandes
10,000
Jagdish Jiwnani
10,000
Chander Kant Parasher
10,000
Harjit Singh Sarin
10,000
Wish to Help Trust
10,000
P. C. Pant
10,000
Ravish Kumar Khosla
10,000
Patrick Agnelo Rodrigues
10,000
Inderjit Rikhye
10,000
Dr. Om Dutt Tripathi
10,000
Amey Uday Parulkar
10,000
Swarna Sawhney
10,000
Col Tolaram Vasumal Laungani (Retd) & Purnima T. L.
10,000
Shiv Das Sachan & Dr. J. S. Sachan
10,000
V. Nagarajan & Sakunthala Nagarajan
10,000
Vinod Johri
10,000
Brij Kishor Saxena
10,000
Nuzhat Parween Nighat
10,000
Prem Nath Dhingra
10,000
M S Rewa Enterprises / Neeraj Gupta
10,000