Leh flash floods
CARE TODAY constructs two warehouses at Umla and Kungyam in the flood-hit Leh region to help tackle food storage problems during the harsh winter.

The Leh flash floods damaged not just the town and 40 surrounding villages but also devastated community structures, affecting the storage of food items such as vegetables and seeds that require special treatment to prevent dehydration.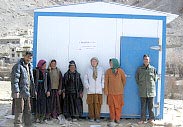 The warehouses at Umla

Encouraged by the successful experiments of Pragya, which established prefabricated weather-proof insulated food storage warehouses, CARE TODAY entered into a partnership with the NGO to set up two warehouses, each measuring 10x12x8.5 ft, with a storage capacity of 7,000 kg in the remote villages of Umla (33 km from Leh) and Kungyam (90 km from Leh).

Pragya initiated procurement of warehouses from Delhi in October and at the same time started work with communities to identify a suitable location to construct a platform and train them to share the storage space. Pragya was able to achieve these objectives and coordinated well with manufacturers to transport warehouses in semi-knockdown condition, working with the engineers in harsh weather conditions to set these structures up in November, well before the onset of winter. The warehouse at Umla and Kungyam together serve the needs of 538 people. The communities expressed their gratitude during the visit of CARE TODAY's Executive Director C. Balaji Singh and said that the warehouses will be useful not only this year but in the future as well. The total support committed to Pragya for this project was Rs 4,66,950.

As of today, total contributions received by CARE TODAY stands at Rs 81,60,271. Till date, three projects have been completed using Rs 10,37,660 of this and CARE TODAY is considering more projects for funding.

Though we have announced the closure of request for further contributions for this project, some generous donors continue to send funds. While we acknowledge the assistance, we wish to inform that we are not accepting any further donations and cheques received will be returned to the donors.