Home | Projects :

Leh

Bihar

Kashmir

Tsunami

Kargil

Orissa

Drought

Gujarat

Thane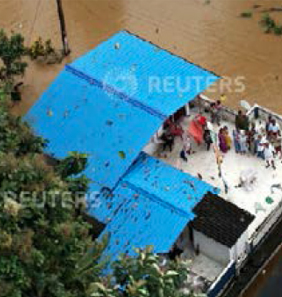 As a result of the heavy south west monsoon, Kerala is witnessing the worst floods since 1924. There has been severe destruction in 12 out of the 14 districts. Overflowing rivers and water released from dams have forced the closure of Kochi airport, cancellation of trains and damage to roads, houses and agricultural land. Over 350 lives have been lost. The losses so far are pegged at Rs 20,000 crore. There is a risk of epidemics once the flood waters recede.
The Care Today Fund was established by the India Today Group in 1999 to provide a platform to those who want to contribute to causes they feel concerned about. Since then, the fund has supported communities affected by major disasters in India. Today, we are once again stepping in to galvanise support to reach out to the flood-affected communities in Kerala. We would like to supplement the relief work and go on to rehabilitation activities. We are in discussions with the institutions active on the ground and will make specific plans once the rescue phase of operations is over and the situation is clearer.
As always, we will keep you informed about the projects and the use of funds. All donations above Rs 10,000 to the fund will be acknowledged in the india today magazine and on all the group TV channels. Those who would like to donate through bank transfer can e-mail caretoday@intoday.com for details. Please provide your name and address. You may also call @+91- 8588892502; +91-7011985493.
The donations will be eligible for income tax deductions as per the provisions of 80G of the Indian Income Tax Act. So far, we have received Rs 10 lakh as donation and the Care Today Fund acknowledges the contribution of TV Today Network Limited.
Draw cheque or demand draft in favour of
'CARE TODAY A/c KERALA SOS'
Payable at New Delhi;
send to:
CARE TODAY FUND, INDIA
TODAY GROUP MEDIAPLEX,
FC-8, SECTOR 16-A,
FILM CITY, NOIDA-201301
UTTAR PRADESH
MAKE A DIFFERENCE


CARE TODAY FUND


INDIA TODAY MEDIAPLEX, FC-8, SECTOR-16A, FILM CITY, NOIDA-201301 (UP)
For further details, please write to balaji.singh@intoday.com