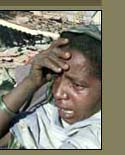 Looking To A New Tomorrow
CARE TODAY plans to build low-cost model villages, provide funds for building social infrastructure as well as extend support to individuals whose lives were shattered by the January 26 earthquake
Gujarat will forever remember January 26 as the day the earth heaved and left in its wake grieving families, fallen buildings-and broken dreams. Over 18,000 lost their lives and property worth Rs 23,000 crore turned to rubble in a few cataclysmic minutes. Rebuilding Gujarat seemed almost an insurmountable task. But people responded generously. CARE TODAY's appeal for funds generated Rs 2.94 crore up
to March 31.
A CARE TODAY-sponsored medical team from St John's Hospital, Bangalore, rushed to Gujarat to provide emergency medical aid. And once the initial paralysing sense of hopelessness passed away, it was time to plan the rebuilding of broken lives. While the rehabilitation process continues to remain fluid, CARE TODAY intends to help both the individual and the community find their feet.
Before the monsoon sets in, CARE TODAY will build basic 12 ft by 24 ft pucca houses for 200 families. These earthquake-resistant constructions will cost Rs 42,000-45,000 each. As in the past, the society will work with a local organisation, in this case the Kutch Navnirman Abhiyan (KNA), a coalition of Kutch ngos which is coordinating the rehabilitation effort.
In another project, CARE TODAY will help the Kutch Mahila Vikas Sangathan (KMVS), a member of the KNA with whom we worked on the Fight the Drought scheme, in its endeavour to build 3,150 houses in 21 villages in Kutch. CARE TODAY proposes to provide KMVS with 50 per cent of the cost of constructing 750-900 houses. The project is likely to commence in October this year. CARE TODAY has also allocated Rs 5 lakh for the building of a room for a school library in Aadariyana village in Surendranagar district. The school was destroyed by the earthquake and is being reconstructed by the Eklavya Education Foundation (EEF), an Ahmedabad-based NGO.
Some people were so badly affected that they require individualised support even if they receive government and NGO relief packages. Ratiben Govindbhai Patel of Vondh village near Bhachau in Kutch district, for instance, faces an uncertain future. Her husband was killed in the disaster and she is left alone to bring up five small children. India Today had earlier carried her sad story ("Mother Courage", February 26). CARE TODAY is in the process of identifying more such people and will work out specific arrangements that would make a big difference in their lives. Besides providing about Rs 5,000 for their immediate needs, we will facilitate a monthly sum of around Rs 500 for food.
CARE TODAY recognises the importance of social institutions in healing hearts. We plan to build community centres in 16 villages in Surendranagar, Patan and Rajkot districts in collaboration with two NGOs, the Navsarjan Trust and Jan Vikas. Each centre would cost Rs 30,000 and will be built before the monsoon.
As in the case of past programmes like "Lest We Forget" and "Hope for Orissa", India Today will feature regular updates about individual beneficiaries as well as the overall rehabilitation effort in its pages.
Progress Report

Some of the contributions of Rs 5,000 and above received on February 21 and 22, 2001

Banwari Lal Agarwal

Sanjay and Mona Singla

Froilano C.R. Machado

Sushil Kumar Singh

P.K. Devaiah and family

Principal, Vinod Model School

You & Us Interiors

Indra Sakthivadivel

Ram Charan Company

SRINIDHI

Tenants Association,
18 Muktaram Babu Street

Neetu

Humble contributor, New York

Madhusudan Kumar Jalan

Rajeev Kumar Mittal

Neelaksh Dhir

Sridhar Reddy Enterprises

Anand Ganguly


Workers from Tamil Nadu in Singapore

Shantanu Rastogi

Students, Sushil's Life Science (Bio) Classes

The Taluk Medical Merchants'
Associations, Kunbakonam

Garg Industries and friends

Students of Bangur College

Ganeesh Mahalingam

S.V. Rangan

Association of Indore Hardware and
Paint Merchants


Transwitch India Pvt Ltd

Kumar Shakti Singh, Transwitch

Vikas Kumar, Transwitch

All other employees, Transwitch

Kuldeep Chander

Jawahar Lal Khanna

Rajindra Park Ladies Association

Mayor & Company

Surekha Ravindra


Sindhu Public School