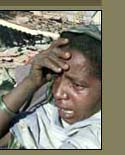 Strategic Partners
Almost a month has passed since the earthquake devastated Gujarat and the emphasis has shifted from relief work to rehabilitation. The Government, NGOs and individuals are working day and night but a lot remains to be done. CARE TODAY feels that priority areas are:


rebuilding portions of houses before the monsoons

reconstructing social infrastructure in Gujarat

providing means of livelihood to the quake victims

tackling the drought situation
CARE TODAY will address these concerns, while ensuring that it does not duplicate the efforts of other organisations. More importantly, CARE TODAY would involve the victims in anything it does, thus making sure that the dignity of the beneficiaries is not impaired.
We are in the process of selecting regions and NGOs to work with. Readers will recall that CARE TODAY successfully worked with the Kutch Mahila Vikas Sangathan (KMVS) for drought-proofing parts of Kutch last year. KMVS has since been at the forefront of relief efforts in the district. CARE TODAY will renew the relationship with KMVS and support its activities in the Pachham cluster of villages, about 50 km north of the badly battered Bhuj.
Contributions to the Rebuilding Gujarat fund continue to pour in. A special mention must be made of UBS Warburg, which contributed Rs 64.81 lakh, making the total funds available for Gujarat shoot up to Rs 1.4 crore. We mention it not because it is a considerable amount but for the way it was made: without any fuss or conditions. Just as any other contribution to CARE TODAY.
A clarification: the picture carried last week of doctors involved in relief work in Gujarat had not mentioned that some of them were from the army.
Please make out cheques/drafts to: "CARE TODAY Fund A/c Rebuilding Gujarat Fund", INDIA TODAY, Hamilton House, 1A Connaught Place, New Delhi 110001. Donations can also be deposited at any IDBI Bank branch across India. Contributions to CARE TODAY are entitled to 100 per cent deduction under Section 80(G) of the Income Tax Act, 1961.