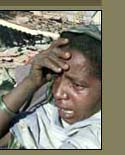 Mending lives


To ensure sorely needed medicare in quake-ravaged Gujarat, a team of doctors from the St John's Medical College & Hospital, Bangalore, left for Ahmedabad on January 29 with 1.6 tonnes of medical supplies based on the who list of essential drugs for disaster relief. Sponsored by care today, the 10-member team comprised, among others, an emergency intervention unit that included two surgeons, an anaesthetist and a nurse.

In collaboration with the Kutch Navnirman Abhiyan, a coalition of NGOs working in the region, the team set up roadside clinics at several places in Rapar. It then moved on to Bhachau, where an army tent-provided by the Army Field Hospital-was used as an operation theatre. With torchlights as the only source of lighting, as many as 32 surgeries were conducted every day.

The number of OPD patients varied from 300 to 400 every day with over 70 per cent comprising women and children. Most patients were diagnosed with orthopaedic problems while about 20 per cent suffered from chronic problems, requiring revision procedures at a later date. Open wounds and fractures were the most common. From Bhachau the team moved towards the border to carry on similar work. Putting in 14-18 hours a day, the team was able to cater to a large number of patients in a week's time.

The area is likely to see an outbreak of acute respiratory infections due to lack of shelter and sanitation.

Meanwhile, the St John's Disaster Relief & Training Cell has offered medical services (advisory and operational) to all the NGOs in the area working with the Kutch Navnirman Abhiyan and its partners.