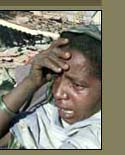 New Foundations


CARE TODAY was set up by the INDIA TODAY Group in August 1999 to help the victims of the tragedies that take place around us. In the past 16 months CARE TODAY adopted soldiers disabled in Kargil under the Lest We Forget programme, built houses for 100 widows and supported 106 orphans under Hope for Orissa, and funded rain-harvesting projects for Gujarat and Rajasthan in the Fight the Drought programme.

On January 26, an earthquake in Gujarat left a trail of death and destruction. Estimates of the death toll in the state range from 30,000 to one lakh. Property worth Rs 23,000 crore has been damaged, most beyond repair.

Responding quickly to the emergency, CARE TODAY sponsored a 10- member medical team from St John's Medical College and Hospital, Bangalore, to provide emergency medical services in the earthquake-affected area. The team, led by Dr. T. Venkatesh, consisted of nine specialists in orthopaedics, paediatrics and anaesthetics and a specialist orthopaedic nurse. They flew into Ahmedabad on January 29 with 1.6 tonnes of medical supplies. Working through the local NGO coordination committees, they provided much-needed medical care in smaller towns and remote villages in Kutch district.

CARE TODAY intends to intervene in the worst-affected regions there. It proposes to:
Ensure the survival and security of the poorest families in the quake-hit area by providing them food.

Fund the rebuilding of shelters, schools and healthcare centres in the worst-affected areas.

Engage the survivors in income-generation activities, which would ensure sustenance in the long term.
We seek your support for such an endeavour. Readers will be kept updated on our activities and the progress achieved through the pages of INDIA TODAY. All contributions will be individually acknowledged and donations of Rs 5,000 and above listed in the magazine.